Here's the annual Herschberger family recap!
TOP 10 (in no particular order)
The kids went back to school in person this fall with Betsy starting kindergarten and Simon in 2nd grade.
Gil was born! Predictably 2 weeks early like his siblings but we had the fun surprise of not knowing if we were having Juniper or Gilbert!
We enjoyed a few family trips – Brian Head, Utah in February, Indiana in July and two trips this fall – Tina and the kids first trip to Disneyland and a weekend in Long Beach with Tina's parents.
Kyle's dealership ranked top 20 in the nation after only three years open, and #1 in peoples hearts and minds.
Simon is a tech whiz and enjoys Minecraft, producing stop motions films, reading and drawing.
Betsy learned to read over the summer. Her favorite activities are helping mama, crafting and conducting baby school with Gil.
Gil is our most active baby yet, he is lean and spry and was sitting up and crawling by six months old.
Tina is busy managing the needs of a baby and the emotions of the big kids. She likes volunteering in the big kids classrooms and starting a new hobby every few months.
Vegas reopened and we got to do lots of fun things this year like a Top Golf summer pass, the Pro Bull Riding finals, Rod Stewart, Golden Knights games, Mike Hammer, and lots of Christmas experiences.
In typical nesting mode Tina tackled lots of home projects with the help of Kyle, her dad and a few professionals. We got new flooring in the master bedroom, a new section of cabinets and counter in the main living area, kitchen cabinets painted, backyard makeover and lots more done before baby Gil was born.
---
JANUARY
We rung in the New Year with our usual 6pm countdown complete with balloon drop. Simon was still doing e-learning for the rest of his first grade year but really loved being able to get his work done by noon and take Wednesdays off. He continued making movies and started doing stop motion and co-starred with Betsy in a Meow Mix commercial that he produced and directed. We also had an awesome Zoom magic show with the grandparents that Simon prepped for days to put on, it was complete with curtains, music, costumes and souvenirs for the gift shop. I quit doing preschool with Betsy but that didn't stop her! She worked on learning how to read and writing out words and sentences on her own. She also did quite a bit of cooking with mama and daddy from the cookbook she got for Christmas. We started doing regular movie nights, in January we watched Flubber. The kids had been wanting to go shopping with their own money so I took them to Goodwill. Betsy wanted to get cleaning supplies, cooking supplies, something to organize her art supplies in and a building kit. She got it all plus some! Simon was mostly interested in props for his movies. We got a few bike rides in and some fun hikes at the Nature Discovery Trail in Boulder City and the Clark County Wetlands Park.
---
FEBRUARY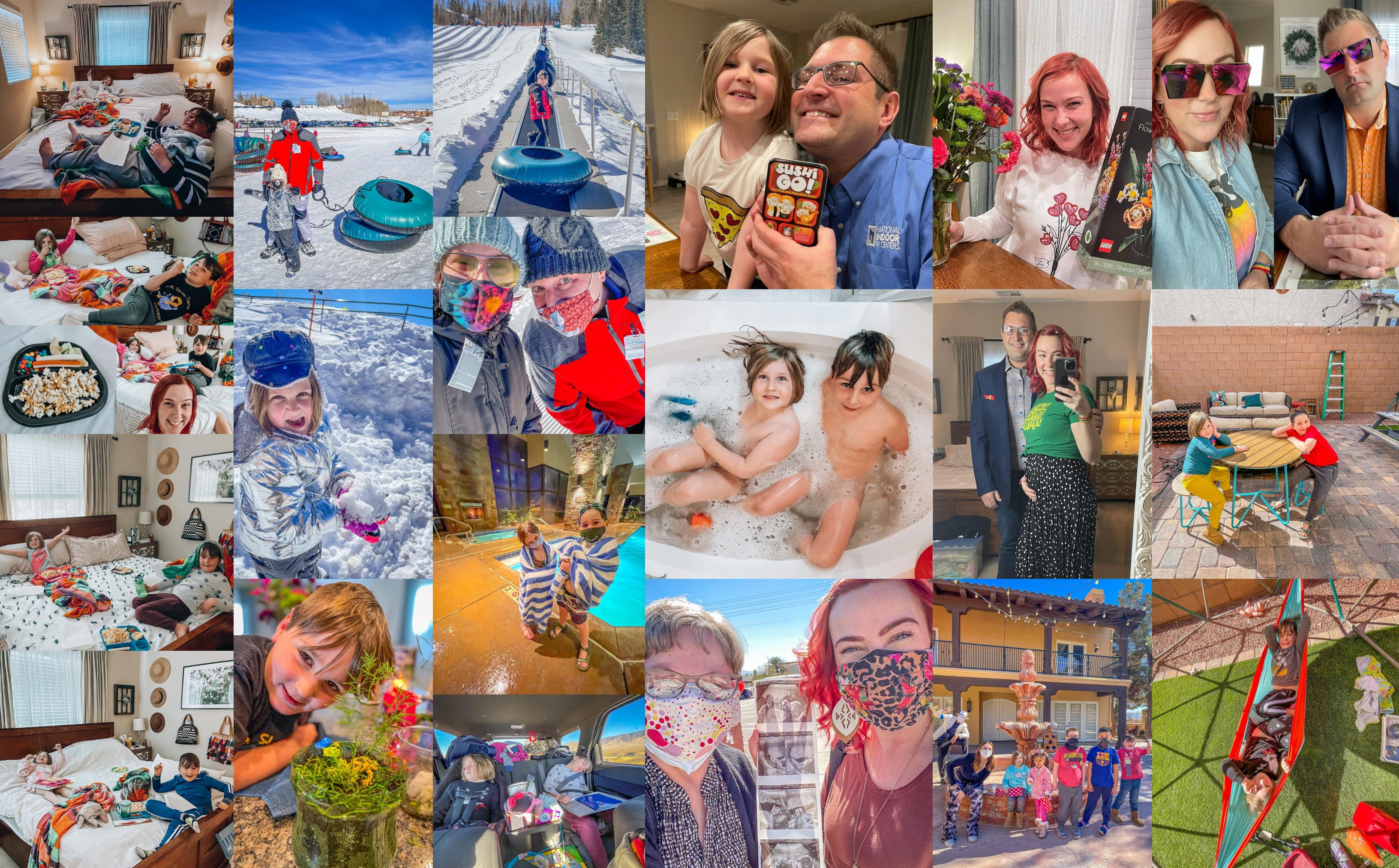 We did movie night once a week and watched Magic Camp, The Shaggy Dog, That Darn Cat! and George of the Jungle. Our big adventure for the month was a trip to Brian Head, UT with some of Kyle's co-workers. The kids had a blast playing in the snow and the highlight was tubing which Simon always refers to as "snow tubing" because the summer before he had experienced water tubing for the first time, haha. Simon did a cool terrarium project in his RISE class. We started getting more into family games and really like Sushi Go! Kyle and I had a Valentine's date out to Kings Fish House and a Valentine's date in where he got me a real bouquet and a LEGO bouquet! At 22 weeks I had an ultrasound and got to take my mom which was really special. Me and the kiddos got out one Saturday morning with friends to Cookies and Cocoa at the Collaboration Center Foundation. I started making over the backyard and got an outdoor furniture set, bistro set and climbing dome all from OfferUp.
---
MARCH
In March I kicked it into high gear getting projects done and my dad helped me (and taught me lots along the way!) with an overhead storage system in the garage, building out the empty space above our kitchen cabinets to be enclosed, refreshing the kids picnic table with a new top, and we made the kids an outdoor "kitchen/laboratory". We also had our kitchen cabinets professionally painted. I finished my backyard makeover with a framed faux succulent garden. On March 21 we celebrated World Down Syndrome day with our neighborhood crew and wore our fun socks, paraded around the neighborhood, had donuts together and read a book about inclusion. We had a couple family outings – one to Ferguson's Downtown which has become a new favorite spot, and we went to the Dolphin Habitat at the Mirage and had so much fun we got an annual pass. Kyle, my parents and I got our first covid vaccine which we were so thankful for. We continued movie night with The Emperors New Groove and Ramona and Beezus. I took the kids to Mi Amor Art which is an awesome studio with unlimited supplies for kids to create!
---
APRIL
We kicked off the month with a visit from Neeny and Poppy (Kyle's parents) and had fun picking them up at the airport with Simon dressed as a limo driver complete with sign. While they were here we went to the Dolphin Habitat, Ferguson's Downtown, and celebrated Easter. Towards the end of their trip cousins Jake and Amy and their kids visited too and we took a trip to Valley of Fire together (on our 3-year Vegasversay!). April in Vegas is the best weather so we enjoyed some trips to the park and kicked off pool season. We only got one movie night in but the kids loved "The Computer Wore Tennis Shoes." We liked the overhead storage in the garage so much that dad and Kyle did another two rows of it, and I started buying baby stuff!
---
MAY
It was the final countdown to baby and our amazing neighborhood threw us a pool party baby shower! Kyle and I got away for a two-night "babymoon", went to a Golden Knights game and finished our stay at the Elara by bringing the kids for a pool day. Simon went to school for a couple days for MAP testing and spent a Saturday at daddy's work while I took Betsy to get her ears pierced. We had "Meet the Teacher" night and were so excited to meet Betsy's kindergarten teacher and find out that Simon would have Mrs. Felabom for 2nd grade, he had been in her math class all year since he bumps up for math. We hosted a backyard neighborhood brunch! This months movie nights were Raya and the Last Dragon and Flora & Ulysses.
---
JUNE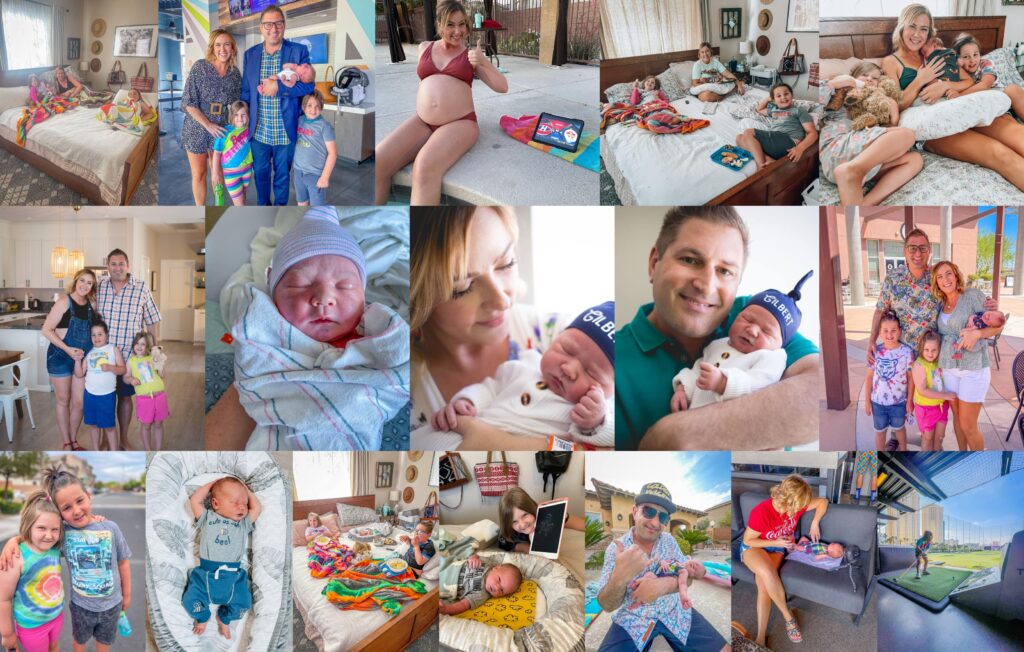 On June 2 I had my 38-week appointment, was 3cm dilated and knew it was almost go time! We got the kids packed up and off to my parents, contractions started, and we ran a few errands before checking into the hospital. They had me walk the halls for an hour to see if I would progress (I was at 4cm when we checked in) and I didn't so they sent us packing. At home we watched hockey at the hot tub, walked the neighborhood and then tried to get some sleep. By 1:30am I was ready to head back to the hospital and when we arrived I was 6cm. After a long night Baby Gil was born on June 3 at 10:38am after just a few pushes! What an exciting experience waiting to find out the gender! We had to be at the hospital a full 24 hours for all the tests and whatnot so we didn't get to go home until the next afternoon and it was so so sweet introducing Simon and Betsy to their baby brother and introducing my parents to Gilbert Ivan (my dads name is Ivan and my parents had never been in the states for a newborn grandchild before). The next few weeks were a blur! The kids went to VBS at Calvary Chapel, Kyle and I picked out countertop for our new bar area, we went to Top Golf a couple of times, made it back to church, and spent as much time as we could at the pool.
---
Still writing, check back soon!