I'm 31 weeks pregnant and finally getting around to narrowing down what items I need to purchase for this baby! I got rid of almost everything baby related from our first two, as friends had babies I passed stuff on and anything that was left when we were packing to move cross-country didn't make the cut. I don't want to be overrun with baby stuff or spend a ton of money on stuff we'll only use for a short period of time so I am trying to keep my list short and get as much as possible second hand.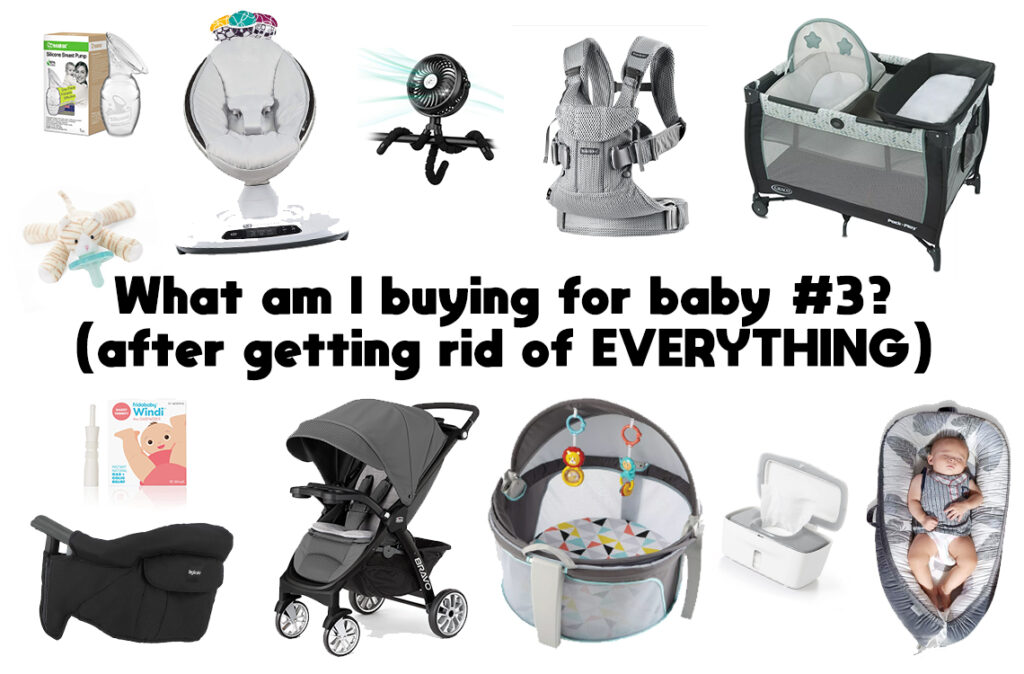 Stroller & Carseat: I'm not a fancy stroller gal – my older two finally outgrew the need for a double stroller (BTW, LOVED our double stroller, the Joovy Scooter x 2) so I gave that one away to a foster family. I usually prefer a 3-wheel jogging stroller and was going to get the same budget one we had with my first, the Baby Trend Jogging Stroller, but decided instead to get the Chicco Bravo Stroller that goes with the carseat we purchased. I found a well loved but still perfectly fine one on Facebook Marketplace for $35!
Stroller fan – I feel like this will be a must have in Vegas, I like the flexible tripod legs on this one that I can use to hook it to a stroller, carseat handle, etc…
Stroller organizer – this one has tons of great reviews and looks perfect for stowing extra water bottles, diapers/wipes, my phone, wallet, etc…
Carseat: We went with a Chicco KeyFit 30 and got some extra bases so we can easily switch around between vehicles. I hadn't saved our baby car seat from the first two and that's fine because it would have expired anyway!
Car Mirror – I see people are doing video monitors in the car now? Um, that's cool but I'll stick with the mirror. I just need to be able to peep baby's face in my rear view mirror every once in a while.

Nursery & Sleeping: We are skipping the crib this time and just doing a pack 'n' play but I wanted one with a few more bells and whistles and a pretty pattern. I got the Graco Pack 'n' Play Care Suite in Birch at Target on Black Friday and love it! I know pack 'n' play mattresses suck and since this is going to be baby's main sleeping space I am going to get this well reviewed play yard mattress. Also getting some play yard sheets.
I had a glider/ottoman with my first and loved it but didn't use it very much with my second and I'm going to skip it this time.
Changing table – another thing I'm skipping. I can change a diaper anywhere, haha.
Sleep: It's hard to know what this baby will need but I know white noise is a must in our house, we have a Dohm Sound Machine or a Big Red Rooster Sound Machine in every bedroom. I'll also have a weighted sleep sack and a Woombie swaddle ready to use if needed.

Baby Monitoring/Health: We LOVE our YI cameras and use them all over the house for security and kiddo monitoring. I also like having a basic audio monitor so I don't have to have the app for the video monitors open on my phone all the time.
I think it's finally time to get a good thermometer and I'm going with this well reviewed infrared thermometer. Love these nail clippers. NoseFrida seems crazy but it's legit and newer from the same company I will totally be trying Windi the Gaspasser.

Baby Containing Devices: If money was no object this play gym is adorable and has great reviews, but the one I got free from a friend will do just fine. I also think this Infantino play mat is cute and it's more budget friendly.
Bouncer – I heard great things about this BabyBjörn Bouncer but grabbed a similar one second hand for cheap.
Baby Lounger – I am not bougie enough for the Dock-A-Tot, but had planned on getting this Mamababy lounger and then snagged one second hand from a friend!
Swing – the Fisher-Price Cradle 'n Swing is a tried and true winner for me, but I was curious if I could snag a second-hand mamaRoo and I did! I got a nice clean one that works great for $40!
Play yard – we LIVE at the pool in the summer and I want somewhere safe for my little one to play and rest with a full canopy for shade so I grabbed this smaller Fisher-Price On-the-Go Baby Dome second hand and I'm keeping my eye out for the bigger Summer Pop 'n Play Deluxe Ultimate Playard w/ Canopy.
Baby Bath – never had one, never wanted to store one, never felt like I was missing out. For wee babes I put a hand towel on the bottom of the tub, an inch or so of water in the tub, and my hands are on them the whole time they're getting bathed.
I had this Tiny Love Stroller Arch with my first two and loved it, you can clip it to anything and the toys were great!
Baby Wearing: I'm going for mesh and breathable this time! The Konny Baby Carrier for a soft carrier and the BabyBjörn One in mesh for a structured carrier.

Feeding + Bottles & Binkies: Spectra S1 Plus breast pump (covered by insurance) seems to be the top pick for breast pumps these days. Pillows are a must for me, the Boppy is a classic, I also like "My Brest Friend" pillow in spite of it's horrible cheesy name. Something that is either newer or was unknown to me that I'll be trying this time is the Haakaa Manual Breast Pump. Soothies Gel Pads were like heaven on my sore nipples. Flannel burp cloths are a must, I like the Gerber brand ones the best, and will be grabbing several of these cute 8-packs.
I LOVE this Inglesina Fast Table Chair for eating out and snagged one at a garage sale for $5! For at home I'll probably get the IKEA high chair again, it's cheap and easy to clean!
It's impossible to guess what bottles and binkies this baby will like, but with my second baby we used Dr. Browns bottles so I'll try those again, and with both we loved the WubbaNub pacifier, it's a soothie style pacifier attached to a small stuffed animal.

Clothes + Diapering: I do not register for baby clothes! People will buy clothes anyway and I'd rather get the stuff I need than a bunch of clothes! (same goes for baby blankets which are actually the one thing I kept!)
I have one of these wipes dispensers in each of the bathrooms the kids use and will grab one more to keep in whatever room I change diapers most in. I love the weighted plate that makes it easy to pull one wipe at a time. I keep Amazon fragrance free baby wipes on my subscribe and save and will just continue doing that! Our health insurance provides three months of diapers and wipes but after that I'll put Luvs diapers on subscribe and save like I did with the last two kiddos. For a diaper bag I've always used a large purse or backpack. I used this backpack with my last kiddo and loved it.

Postpartum: My must haves start with drugs: stool softener, ibuprofen and acetaminophen. Next up is incontinence underwear and pads to manage the postpartum bleeding (that can last a couple weeks so I wore a panty liner for unexpected bleeding for a while!). Lidocaine spray and the perineal bottle from the hospital make bathroom visits more bearable. An extra long phone charging cord, big straw cup, and snacks for the long nights cluster feeding.
Treat yo self: pregnancy is hard, childbirth is hard, and the newborn phase is really, really hard, so if you can, treat yourself to something nice! I recommend a diaper bag backpack because you will use that thing ALL the time for several years. Might as well get something that is quality and stylish, functional but doesn't look like a "diaper bag". I got the Luli Bebe Monaco and love it! Vegan wipeable leather, backpack straps, a removable strap for shoulder or crossbody and removable stroller straps. All the hardware is really high quality and GOLD!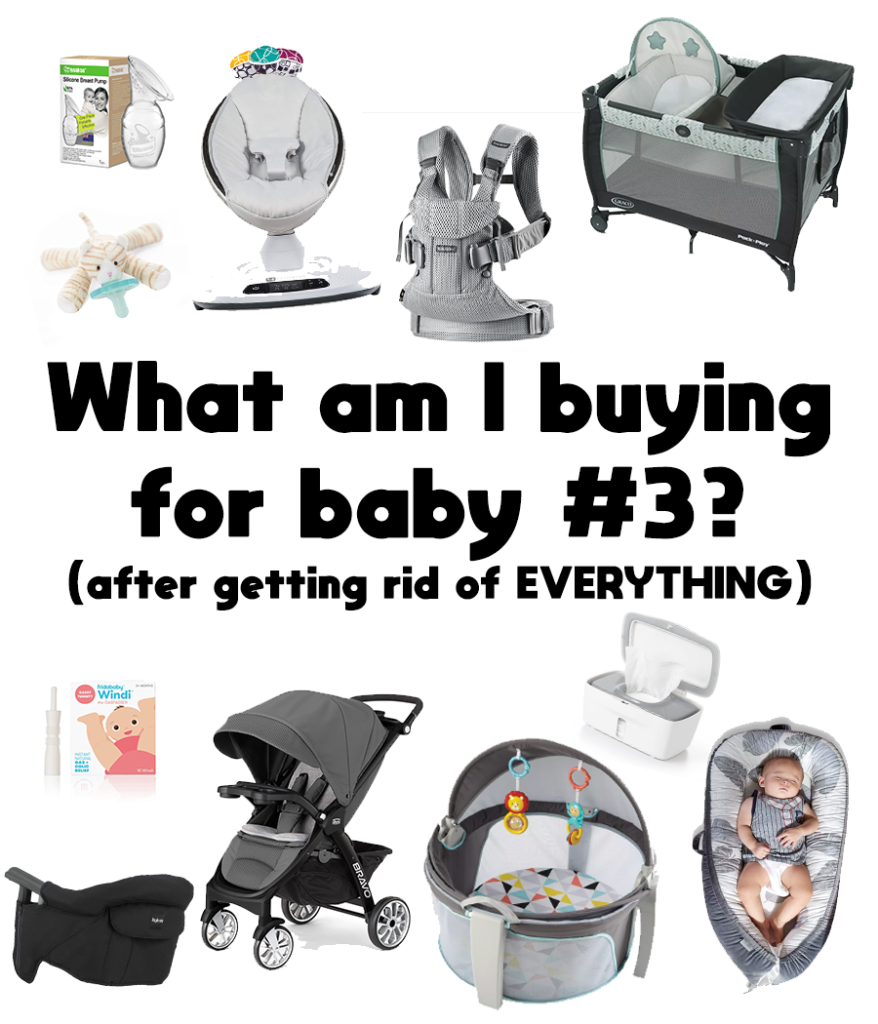 Disclosure: the links in this post are affiliate links, meaning, at no additional cost to you, I will earn a commission if you click through and make a purchase. You can read more about that here. Thank you so much for taking time out of your day to follow along as I blab about fashion, being a mommy and more!