In 2018 I did a monthly recap and in 2019 I did our top 10. Let's do both this year!
TOP 10
Our biggest news is of course that our family is growing – baby Herschberger #3 will join us next June! We are all SO excited!
Kyle had a fantastic year as General Sales Manager at National Indoor RV Centers of Las Vegas. RV sales are booming and his team has been busy! He was named one of RV Pro's 40 under 40!
Simon debuted on stage as President Roosevelt in his school's production of Annie Jr. which was the first weekend in March. Thankfully it was right before things started shutting down and his grandparents from Indiana were able to come for it!
The pandemic changed life as usual to a brand new normal, Tina and the kiddos started taking lots of walks/bike rides, reading together more, and racked up some serious pool time over the summer.
E-learning has had its ups and downs (we did the bare minimum in the Spring) but this Fall we got into a groove and Simon is loving it. He bumped up to second grade math and tested into the gifted program. He will be 7 on December 22!
Betsy is growing SO fast! She turned 5, lost her first tooth and has a second wiggly one, is learning how to read, and she outgrew her bike in one year.
We were still able to travel back to Indiana for a 3-week visit and while it was pretty different than the previous year and we didn't see as many people, it was a wonderful time with family and away from the Vegas heat.
While the political season overall was NOT a highlight (haha), Tina and the kids did have a great time volunteering for Pete Buttigieg's campaign.
The pool was a HUGE highlight of the year. We went almost every single day from the end of May to the middle of October. It was a pretty safe space for us to spend time with our neighborhood friends (our COVID pod) so that's what we did and we LOVED it!
Kyle and Tina are celebrating 10 years of marriage! We kicked off our decade of marriage with a vow renewal at Denny's on Valentine's Day and are looking forward to a couple nights away in December.
January
We started the New Year with a trip to Simon's favorite indoor play area – Lost Worlds. Tina and the kiddos acted in a prank video. Tina and Kyle went to Xavier Mortimer's Magical Dream 1,000th show. Kyle sold an RV to Steve-O from Jackass (later in the year Marie Osmond was a client!). Tina got away for a weekend to attend Noonday Collection's annual sales conference. Friends from Florida came to visit and we fit in hiking at Valley of Fire and going to one of Tina's favorite shows, Potted Potter.
February
February was a BUSY month! Tina and the kiddos campaigned for Pete Buttigieg and Tina participated in her first caucus as a precinct captain. Kyle and Tina got out for a couple of date nights, one to Marrakech, a Medditerranean restaurant with belly dancers, a Valentine's pre-date that included go-carting, a Valentine's family date where we renewed our vows at Denny's, and we ended the month seeing Sarah MacLachlan live. Simon was very busy with practice after school for Annie Jr. We had a couple of super fun playdates with our neighborhood crew; one to South Point for bowling and an epic dance party in the empty conference center halls, and another to one of our amazing parks! Tina had a Noonday party and was so blessed by all the friends who came, her favorite part was seeing new friendships come out of the gathering!
March
The month everything changed. We started out the month with Simon's play and a visit from Kyle's parents. The play was SO cute and Simon's performance was pretty comical because he was SO tired, haha. We also got to celebrate Kyle's mom's birthday early together! Our episode of "Get a Clue" finally aired (Tina, Kyle and Tina's parents competed as a team on a new Game Show Network show), spoiler – we didn't win. Kyle and Tina went out one more time before the shutdown – to a taping of Penn & Teller's "Fool Us", you can spot us in the audience in a few episodes. One more TV appearance this month, the episode where Kyle is on "90 Day Fiance" aired! Tina and the kiddos jumped into quarantine life and participated in some online science and art classes and doing some of the Sonlight Curriculum kindergarten reading. March is a beautiful month in Vegas and we enjoyed hiking, outside playdates with our neighborhood friends, and outdoor socially distanced visits with Tina's parents. Tina's grandma passed away and it was so hard to not be able to celebrate her life with the rest of the family in Indiana. Tina and the kids did a "Quarantine Halloween" on the 31st with Tina dressed as Carole Baskins.
April
This is the month Tina went full on quarantine and started sewing masks, baking, tie-dyeing and getting creative with her hair AND the kids hair. The kids spent TONS of time in the backyard, playing restaurant, making "stinky tea" and who knows what else. Leading up to Easter we got "egged" and "egged" our friends and made a pretty faux stained glass cross on our patio door. We finally started using the amazing trail by our house (Tina walking, kids on bikes) almost every day, it's about three miles round trip.
May
We had lots of walks, some backyard blow-up pool time with the neighbors, and finally at the end of the month our neighborhood pool opened! Simon's school had a drive-through teacher appreciation parade and a drive-through kindergarten graduation. Tina and the kids took a day trip to the beach with neighborhood friends and participated in a scavenger hunt hosted by Ignite Life. On our second trip to the pool for the year Tina's lost wedding was found — it had been missing for 10 months!
June
June was all about the pool. Tina and the kids spent hours there every day (and accumulated quite a pool float collection) and Kyle jumped in every day after work. One of our neighbors organized for an ice cream truck to come to the neighborhood. We had our first family masked outing to meet up with a classmate of Simon's who was diagnosed with neuroblastoma and would be beginning treatment soon after.
July
The kids got fresh color in their hair and started wearing swim caps to the pool which is a pretty cute look. We celebrated the 4th of July on our neighbors rooftop deck for the second year in a row. Tina did TONS of tie-dye and the kids liked helping rinse it out. On July 9th Tina and the kids flew to Indiana and spent 3 weeks there, with Kyle joining for a week in the middle. It wasn't like the previous years, with a whirlwind of visits to friends in IN and MI, but we had a blast and still fit in some pool time and backyard time with friends, plus lots of fun with Grammy and Poppy. While Kyle was there, we spent part of a week at a lake house in MI and the kids had the time of their lives. Simon lost two teeth in one day, the kids went tubing for the first time, and Tina and Dani had a tie-dye marathon. The kids learned how to ride bikes without training wheels! Tina partnered with Walmart on a back-to-school campaign that Simon got to star in. We flew home on July 30th and went straight to the pool.
August
We started the month with Tina rearranging and getting ready for Simon's e-learning and Betsy's homeschool preschool, and Kyle redid the guest room. Lee and Jane and Dani visited for a week; they spent a couple days in Utah and we had lots of fun with late night swims and a trip to Lee Canyon. Tina did another Walmart campaign and both kids modeled this time. Simon started first grade at the beginning of the month and Betsy started homeschool preschool with our neighbor Hazel at the end of the month!
September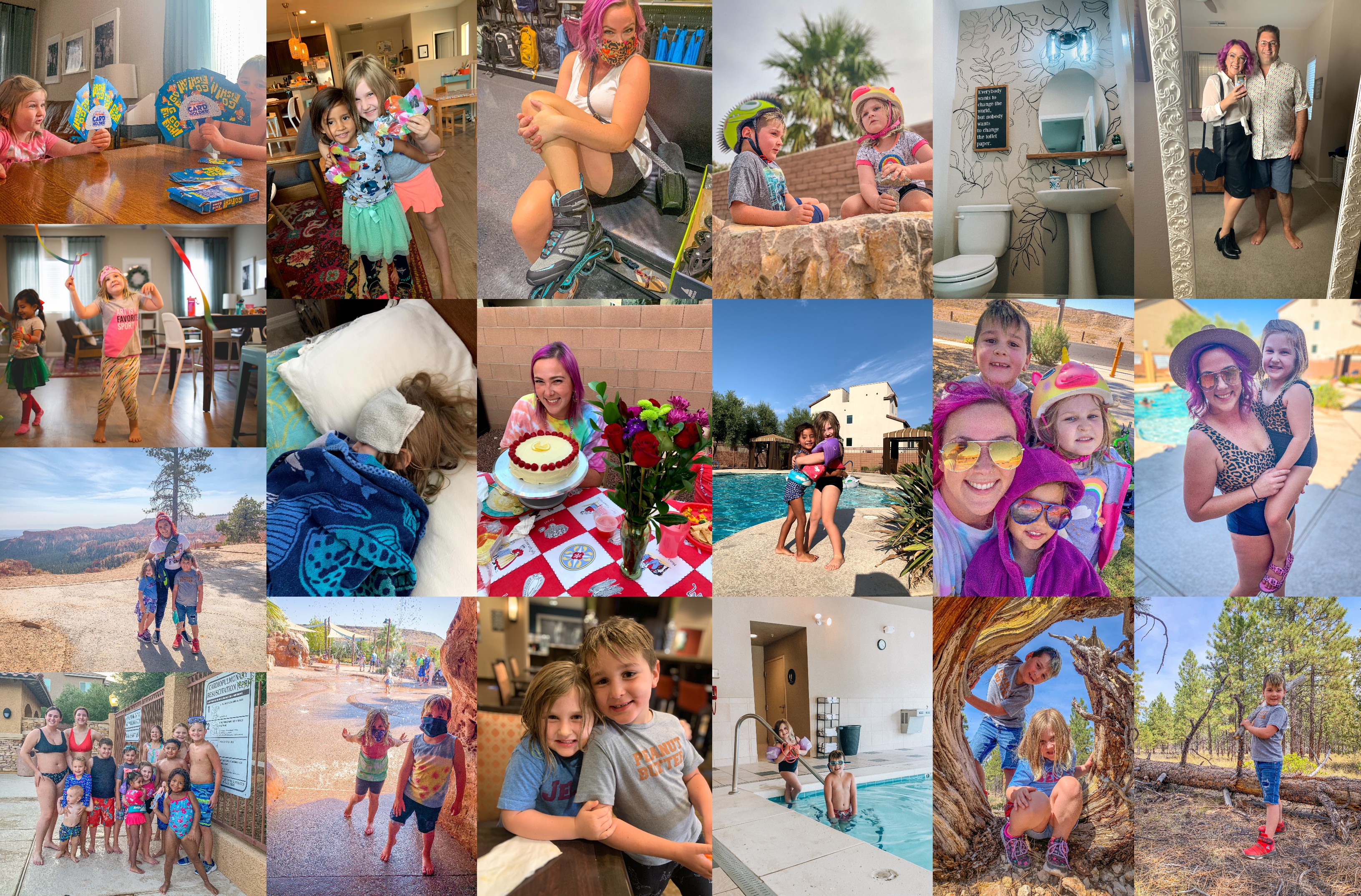 This was a fun and busy month with Simon fully into his 1st grade e-learning (and doing quite well with it) and Tina doing preschool with Betsy and Hazel four days a week. The neighborhood crew had a pretty great Labor Day weekend pool party. Tina decided to give the half bath an update and in 48 hours she updated the light fixture, painted an accent wall and her dad helped reuse the existing mirror in a new way with a floating shelf they built. We took a family trip to Utah and enjoyed the beautiful scenery and some time away! Towards the end of the month Simon went to school for a math advancement test and the CogAT test; he ended up scoring high enough on both to bump up to 2nd grade math and be admitted to the RISE (gifted) program.
October
October is a beautiful month in Vegas – we went to the pool until mid-October and enjoyed several picnics with Tina's parents. We found out Tina is pregnant and told her parents but wanted to wait and tell Kyle's parents in person when they came to visit early November. Simon participated in some free online LEGO classes taught by contestants from LEGO Masters. Tina got a Cricut Maker and started personalizing masks, t-shirts, and trick-or-treat bags for the neighborhood crew! Halloween was a blast, Simon and Betsy were really into their costumes and we did a drive through trunk-or-treat, a pizza party in one of our neighbor pal's driveways, and a goodie bag exchange with three other neighborhood families.
November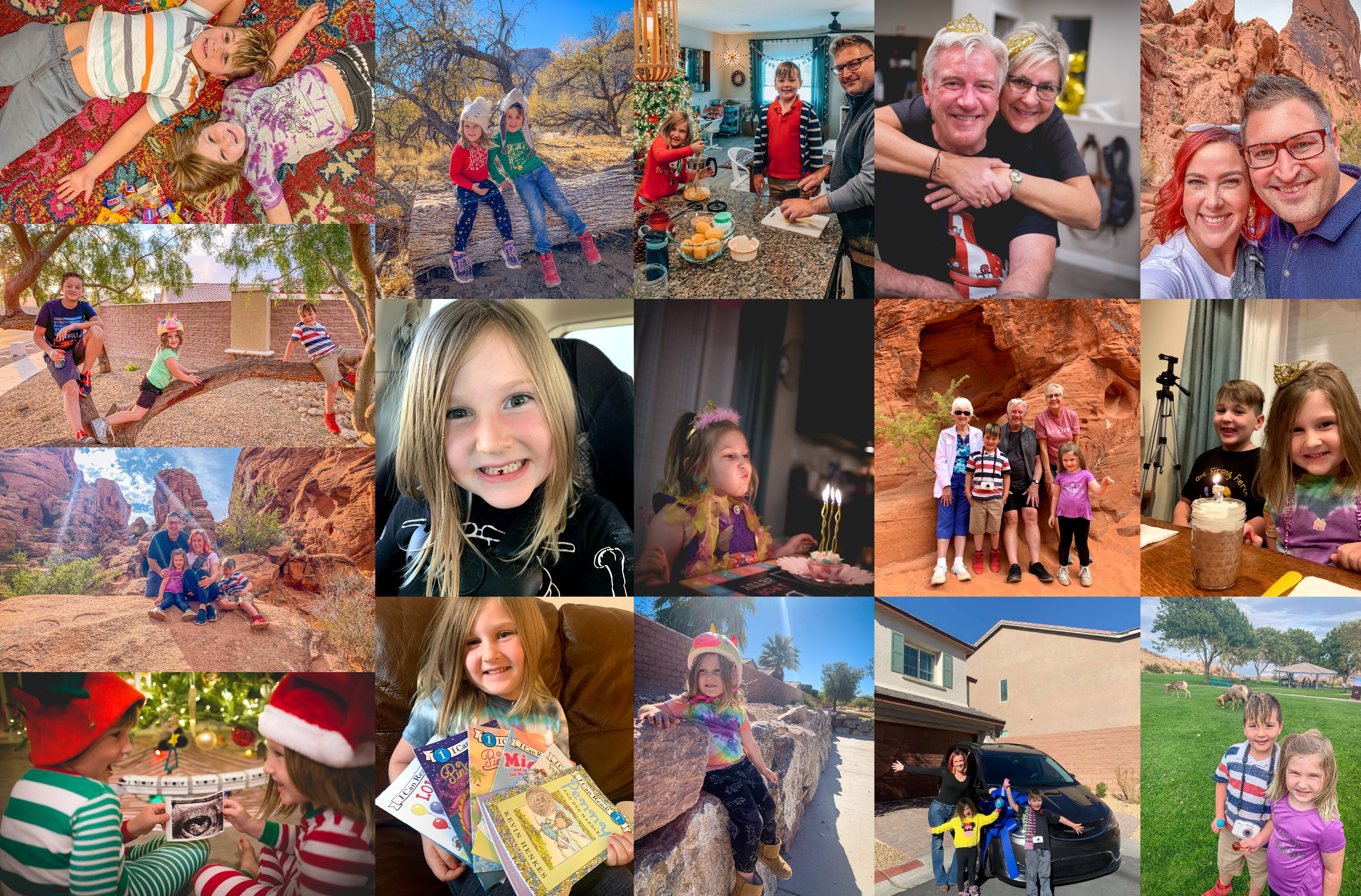 The month started with very special visitors, Kyle's parents and grandma. We had wanted to surprise them at the airport with the news of the baby, but Betsy spilled the beans ahead of time. She whispered to Poppy on a video chat "Mama's getting a baby, I'm not supposed to tell you!" While they were here we celebrated Betsy's 5th birthday, went hiking at Valley of Fire and went to Boulder City to see the bighorn sheep. Betsy lost her first tooth! We celebrated Thanksgiving just the four of us and, thanks to a smart friend, didn't have to do all the cooking(!) as Tina participated in a food swap – Tina made pans of stuffing to share and brought home a pecan pie, mashed cauliflower, rolls, cranberry sauce and sweet potato casserole! Christmas came early when we decorated BEFORE Thanksgiving and Kyle surprised Tina with a new (to us) minivan!
December
December is shaping up to be a cozy month at home with lots of crafts and Christmas fun. We continue doing weekly Zoom playdates with our neighborhood crew with the moms taking turns organizing activities (we've done BINGO, a glow stick dance party and story time with special snacks and crafts). Tina and Kyle are celebrating 10 years of marriage with a little staycation at one of the off-the-strip hotels and the kids will get to spend two nights at Tina's parents. No Christmas visitors this year but we're looking forward to family time at home and a slower pace.
Praying for a healthy and joyful Christmas and New Year for all of our family and friends!