A huge thank you to Walmart for sponsoring this post! All thoughts and opinions are my own.
It's finally dropping below 100° and I'm ready for some fall clothes, haha! This is a very different transition to fall wardrobe as almost everything about life is very different! I'm home 98% of the time, doing e-learning with Simon and homeschool Pre-K with Betsy and another little friend. With my current purple hair I'm drawn to black and bright colors instead of my usual rust and olive greens. So for this blog post I'll show you what I got and at the end I'll do a collage of what I would be buying if things were a little more "normal."
For the past couple of years I have done a lot of my clothes shopping at Walmart.com and I have some brands I always check out like Time and Tru, Signature by Levi Strauss & Co., and the Sofia Vergara collection. I also find things I like from Scoop, EV1 line by Ellen Degeneres, Danskin and Athletic Works for active wear, Brinley Co. and Melrose Ave. for shoes, and the Secret Treasure's sleepwear line has the cutest stuff that I wear to bed AND out and about! I've also started shopping the junior's brand No Boundaries, I just size up once or twice for the right fit.
The online ordering process is SO easy, a ton of stuff is eligible for free next day delivery on orders of $35+ and whenever I have an item I need to return it is a breeze to do in store.
Browse all the outfits below easily on LIKEtoKNOW.it! https://www.liketoknow.it/tinainreallife


Typically I think boots and sweaters for fall! I tried a couple sweaters and this two-way sweater from Sofia Vergara was the big winner. It is SO soft, I'm obsessed with the balloon sleeve, I love that it can be worn high neck or deep V, AND that it can be more dressy or casual athleisure! I sized up to a large, it also comes in three other colors!
Ok, ok, I know a lot of ya'll might not be into crop tees, but I LOVE them! If you haven't tried one with a pair of high waisted jeans or leggings, do it! I am loving both of these so much. The NASA long sleeve tee is juniors and sizing was super limited so I got an XXL and I love love love the relaxed fit. The Jordache crop tee is women's but I still sized up to a large and it's perfect. The cotton and quality on it is A+. The leggings on the left are new and they're 80% cotton so I want to try reverse tie-dying them!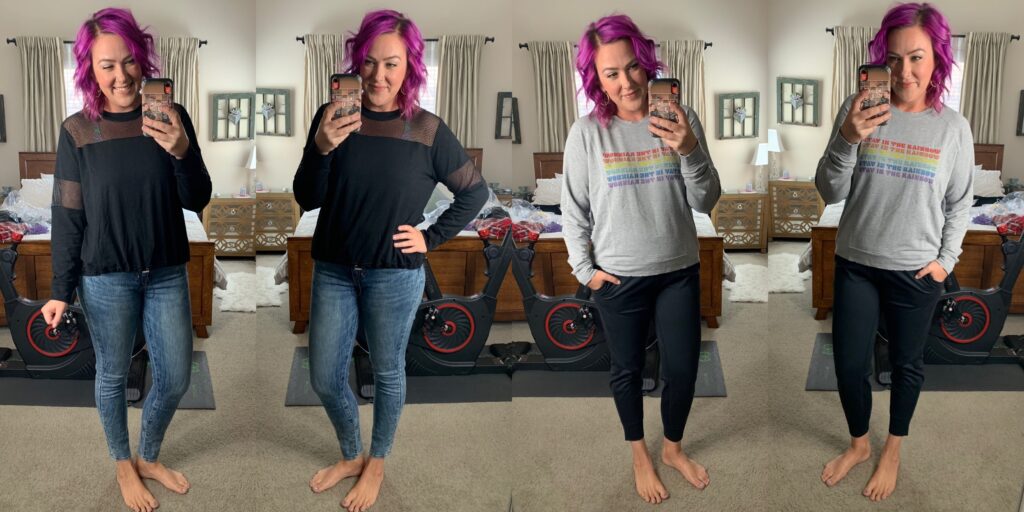 Instead of sweaters, I am leaning towards comfy sweatshirts this fall. I am keeping both of these! The mesh detail sweatshirt on the left is juniors and I sized up to an XL. I think the mesh is super cute and the rest of the sweatshirt is cotton so I'm going to reverse tie dye it! The "stay in the rainbow" sweatshirt is super soft, comes in grey and ivory, and is ON SALE!
My last few finds! I ONLY wear joggers to bed and had to try these Secret Treasures flannel joggers that come in a two-pack. I grabbed the red plaid w/ gold thread that's sort of Christmassy and the pink and grey plaid w/ silver threads. They have a few different plaids and some cute patterns! I'm wearing them with a boyfriend tee from Time & Tru that I have in a couple colors, it's a cute basic boxy tee. On the right is a tie dye long sleeve tee with "grateful" in distressed gold, this was the first thing I took the tags off of and I've already worn it a few times. It is juniors so I sized up twice to an XL for a relaxed fit.


If my life was "normal" and my hair wasn't a fashion color, these are the cute things I'd be buying for fall (actually, when my purple fades I'm going to do a "ginger spice" color so maybe I'll be snatching some of these up in a month or two). A pair of skinny jeans, a pair of bootcut/flare jeans, some fun sweaters, fabulous booties and a new bag!
Disclosure: the links in this post are affiliate links, meaning, at no additional cost to you, I will earn a commission if you click through and make a purchase. You can read more about that here. Thank you so much for taking time out of your day to follow along as I blab about fashion, being a mommy and more!